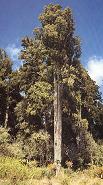 Our eponym: a Rimu tree (pronounced, Ree-moo), a New Zealand native.

RimuHosting's Goals
Our goals are pretty simple:
Offer a flexible, reliable hosting service.
Make our customers deliriously happy with the support they get.
Why RimuHosting?
Looking for a host with a solid track record? RimuHosting has been working hard to provide great server hosting since December 2002.
One of the original UML VPS hosting companies, and also one of the first to offer Xen-based VPS hosting.
RimuHosting is a successful, customer-focused business that aims to be here for years to come. In 2008 we were ranked the 16th fastest growing company in NZ in the Deloitte Fast 50 Index (up from #25 in 2007). We were the only hosting company to feature on their list. We also made the 2008 Deloitte Technology Fast 500 Asia Pacific Index.
Our friendly and knowledgeable staff includes developers, and professional system administrators.
Quick responses from our email and ticket support systems. One-on-one support with our hosting experts. Live chat for quick questions.
Our staff are available 24x7 365 days of the year. We are here when you need us.
RimuHosting is not a reseller. We operate our own servers. If something goes wrong, we're the ones that fix it.
RimuHosting Ltd is a private, family owned, New Zealand registered company that operates globally. Hosting at your choice of data centers in Dallas, London, Frankfurt, Auckland, Sydney and Brisbane.
We Stand Behind Our Hosting
We have confidence in our technology and our support. So, we offer a 30-day money back guarantee on our hosting fees, as well as a 99.9% uptime SLA. We comply with the EU General Data Protection Regulations (GDPR).
Our plans have a one-month minimum contract period. No long-term commitments are required.
Sales Inquiry
Submit a no obligation inquiry about our service.
Email
support@rimuhosting.com
Support Ticket
Need urgent support? Try a support ticket first.
Twitter
http://twitter.com/rimuhosting
Live chat (for sales or quick questions)
Tel
+64 7 823 7468
Typically you will be able to reach us during our core office hours of Monday - Friday 11AM - 4PM NZT.
For any technical requests (e.g. those mentioning particular domain names) please contact us via ticket, live chat, or email first.
Main Office
Rimu Hosting Ltd
Top Floor
60 Victoria St
Cambridge 3434
New Zealand