Well Connected Data Centers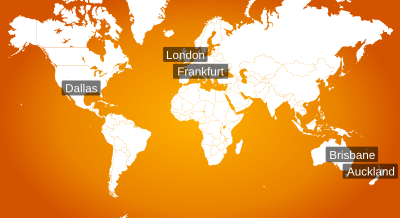 RimuHosting uses data centers in multiple countries. This lets you host with a server closest to you or your users. We currently use data centers in the following locations:
These locations let you choose a server nearest your US, European or Australasian users.
Each data center has redundant UPS systems, generator backup, closed circuit monitoring, card key access, 24-hour guards and redundant a/c systems. Rest assured your hardware is being well taken care of.
Lots of low latency bandwidth. Typically you can 'ping' other US servers in an incredibly fast 20ms or less.
Multiple, Gigabit Connections to the Internet. So even multi-megabyte files can be downloaded in seconds.
24x7 Server Monitoring. And our sysadmins are paged if anything is wrong. It's "peace of mind" hosting.
UPS protected highly redundant power feeds
Dallas Data Center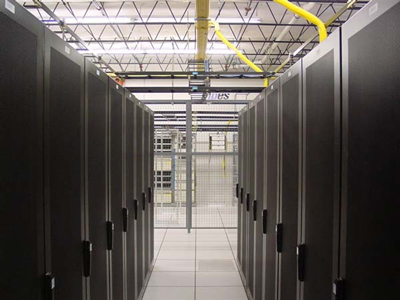 The Dallas-based data center we use, run by TierPoint, provides a reliable, fast and affordable mix of BGP routed bandwidth. The data center run a Cisco networking environment. And is staffed 24x7 by technicians who perform all our remote hands work (e.g. changing drives, memory or swapping servers).
TierPoint take their power seriously. They have 4 autonomous 2N power plants; 11MW of utility power; and 6 backup diesel generators on standby.
TierPoint is very secure. Their 68,000 sq ft facility is annually audited for Type 2 SOC 1 and Type 2 SOC 2 compliance; single story; single tenanted; FM-90 rated wind roof. Multi-layered security includes card key, pin, and biometric scans at the facility entrance; intrusion detection systems and full CCTV surveillance.
The servers we purchase and colocate at the Dallas data center are the latest and greatest our money can buy, so we are able to offer customers great pricing on extra memory and disk space.
If you are not sure which data center to go with then we recommend you setup your VPS or dedicated server at this data center. We host most of our customers at this facility.
Order a Dallas-based VPS, or a Dallas-based dedicated server. Sample IP.
London Data Center
The UK-based data center we use is located in Reading (just outside of London).
Located in Reading (Thames Valley) near the Green Park technology area
50,000 square feet of capacity
2N transformers, UPS and power switching
N+1 generators and chillers.
Diverse power feeds from utility operators.
Inert fire suppression gas system.
Perimeter palisade fencing.
CCTV
24x7 staffing, man trap secured entry.
40Gbit+ direct peering with Telehouse POP and Equinix.
ISO27001:2005 certified
We recommend our London data center if most of your users are in Europe and low latency is critical to you.
Order a London-based VPS or London-based Dedicated Server.
Brisbane, Australia Data Center
We provide dedicated servers in Australia from a Brisbane-based data center.
If you or your customers are located in Australia, Asia or New Zealand then one of our Brisbane-based VPSs is a good choice. Bandwidth in this part of the world is not cheap, so data transfer allowances on these servers are lower than at the other data centers we use.
Some facts about the Brisbane data center:
has multiple carrier-grade connections to various Australian network providers including SingTel Optus, AAPT and UECOMM for excellent redundancy
24 hour 7 day Emergency support.
24 hour 7 day On Site Security.
N+1 UPS Power Protected Servers.
N+1 Caterpiller Generator Backup Power.
N+1 feeds from state power grid.
Order a Brisbane-based VPS or an Brisbane-based dedicated server.
Sydney, Australia Data Center
Our VMs in Sydney are located at the award winning NextDC S1 data center. Some highlights:
Uptime Institute Tier III certification.
N+1 power and cooling.
Hot and cold aisles for peak cooling power efficiency.
Cardboard- (and dust-) free data halls.
Locked cabinets.
Inert gas fire suppressant.
Financially stable, publicly listed data center company.
Fenced, secure bio-metric entry, 24x7 staffed and CCTV.
Reliable, fast and affordable data transfer.
10gigabit core network
Well certified with ISO 27001: 2013; ISO 9001: 2015; ISO 14001:2015; NABERS 5-Star; Uptime Institute Tier III and Tier IV certification; On the Australian government data centre facilities supplies Panel (multi use list for the provision of Data Centre-as-a-Service DCaaS)
Order a Sydney-based VPS.
Auckland-based Data Center
Our NZ-based hosting plans are offered out a data center in Auckland, New Zealand.
Some facts about the Auckland data center:
Three inline UPS system providing constant and regulated power to the cabinets
500KvA backup diesel generator in case of extended power failure
Multiple GigE redundant Internet connections (Vector and Telecom)
Redundant switching and routing services at all critical entry and exit points on the network
North shore located, single-story, masonry perimeter walls
Electronic access and physical security; man-trap entry; video surveillance; dual path, 24x7 monitored alarm
Order an Auckland, New Zealand-based VPS or an Auckland, New Zealand-based dedicated server.
Frankfurt-based Data Center
Some facts about the Frankfurt data center:
ISO 27001 certified
24x7 staffed data center
n+1 power systems; Green Power UPS; self start diesel backup generator;
Video surveillance; biometric scans on entry
Connectivity via tier 1 providers: Deutsche Telekom, Level3 Communications and Tiscali International
Direct peerings at 4 exchange points including DE-CIX
Order a Frankfurt, Germany-based VPS.