Home
> RimuHosting People
RimuHosting People
Most hosting companies can buy the latest and greatest hardware. And we all have the same opportunities to host at great data centers.
So what makes one company different from any other? We (honestly) think it is the staff that you deal with day-to-day. So at RimuHosting we strive to have a support team that is knowledgeable and passionate about Linux. And then we do all we can to empower these people to help make our customers' lives just a little bit easier.
This page lists some of the people you may find yourself interacting with at RimuHosting.
Peter Bryant

Peter founded RimuHosting in 2002. He helps out with support; does the monthly billing; flexes his Java muscles every now and then by coding on the RimuHosting web site; and works hard to make sure that RimuHosting always has the best and brightest staff along with great servers sitting in reliable data centers.
Peter enjoys the odd game of squash and tennis, and heading to the gym to lift barbells after work. He's slowly working his way though New Zealand's Great Walks.
Glenn Enright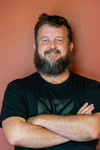 Glenn started working for RimuHosting in February 2008 at the Cambridge offices doing support work. He completed a Bachelors degree in computer science at the Waikato Polytech in 2007.
He has been using Linux since late 2000, distros of choice have included Gentoo and Ubuntu.
In his spare time he enjoys online gaming and is also working on the odd Java project.
Liz Quilty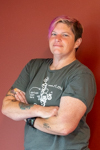 Liz started in 2008 and has been using GNU/Linux since 1997. She started on Redhat, 3 weeks later migrated to Slackware. Eventually moving through Debian and finally onto Ubuntu.
Liz ran the Orcon (NZ-based ISP) Debian & Ubuntu repository in her spare time, and is an avid cyclist, fitness junkie and plays Ukulele in what little free time she has.
Eugene Shcherban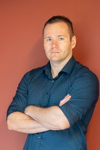 Eugene joined RimuHosting in September 2012 at the Cambridge office as a System Administrator. His passion to Linux began after reading 'Cryptonomicon' of Neal Stephenson in 2004.
Changing jobs from Savings Bank of Russian Federation to The University of Auckland, Eugene secured position at RimuHosting and never regretted his decision.
At his free time, Eugene enjoys exercises with a kettlebell and athletic rings, jogging, reading books, traveling, listening to music.
Alex King

Alex began using Linux in 1997, starting with Slackware which was the only distro with a shiny new 2.0 kernel on the CDs he used. After learning Linux he got a job with a local ISP and switched to using Debian which is the distro he still prefers. Alex has been helping people to use the internet, and encouraging them to use Linux and Debian ever since.
Alex works for RimuHosting from Dunedin. He bikes everywhere to keep fit and enjoys singing in a community choir. He's involved in community groups working on public transport advocacy and improving Dunedin's housing stock, among other things.
Yifan Zhang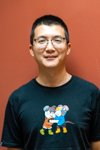 Yifan Started in February 2021 as a Network Engineer. Before that he worked in a university environment and pharmaceutical company for years. He enjoys the fun of deploying new network design and fixing some tricky network problems.
At his free time, he likes reading, music and cooking Chinese food.
Elton M. Labajo

Elton started fiddling Linux back in 1996 in a University laboratory, he installed slackware from a pile of floppy disk in an intel box, was amazed by the technology and after which he worked on a company in a R&D Dept. for Linux solutions, became a SysAdmin in an ISP and lately a Linux DBA. He also do some scripting and programming in java,python and hopefully Ruby on Rails.
At free time he watch TV a lot, play guitar, smash tennis and fix cars for fun.
Ghassan Deeb

Ghassan got his Masters in Telecommunications and IT from Athens Information Technology in 2006. He was introduced to Linux in college and worked in both Linux and Windows environments.
In his free time, he likes to play Chinese checkers, go to the cinemas, follow up with the latest gizmos and BBQing.
Jason Price

Jason started in mid February 2021 as a Network Engineer. Before that he has worked in multiple complex network environments.
In his spare time he enjoys martial arts, gym, rugby and exploring the great outdoors.
Blake Larson

Blake works in our data center operations team, setting up new hardware. He started with Rimu April 2021. Blake worked in the Allied health field as a full-time Paramedic before completing a Bachelor of Information Technology from Whitireia Community Polytechnic and moving in to the tech space. During his degree he became involved with using Linux and scripting through a hardware project.
Does JuiJitsu, running, hiking and general tinkering in his spare time.